Based at a forge and workshop in Somerset, I work in a wide range of metals often combined with other media - glass, wood, mosaic, light, water and concrete mortar. I am equally at home with traditional or contemporary techniques and styles, and in terms of scale, my work ranges from a tiny detailed conservation bolt head to large entrance gates and street furniture.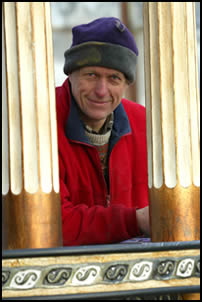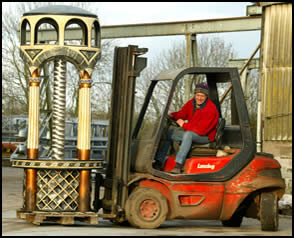 Alongside Public and Community Arts work, I produce commissioned items for gardens and interiors as well as architectural pieces - both traditional and contemporary. For larger projects, there are a number of other Blacksmiths and skilled crafts people who can be brought in either for the whole project, or specialist areas. ANVIL ARTS is being developed as an umbrella for these collaborative projects, making a wide range and combination of skills available through one point of contact - this is particularly useful for commissions and projects where other media are used in combination with metals.
Born and educated in Cambridge, I developed a strong interest in architecture, and after spending time on a study tour through North Africa and Central Asia, I worked independently in Building Conservation, specialising in structural repairs. Architectural ironwork became a particular obsession and I started learning the basics of Blacksmithing with Frank Day and the Wessex Guild of Wrought Iron Workers, at Cannington College.

I now work from a forge and studio in Somerset, where alongside traditional Blacksmithing and conservation work, I also produce both functional and sculptural pieces, for architectural and landscape/garden projects, as well as undertaking commissions for larger site specific work -often public and Community Arts work.

I use natural forms as the basis for design, and I am particularly interested in combining metals with other media - mortars, glass, mosaic, light, water etc., The organic forms make my work accessible, whilst challenging the public perception of the materials, and their more traditional forms and uses.

I enjoy public commissions, perhaps because they allow me the freedom to draw on past experience whilst exploring my working methods on a larger scale. Liaising with planners, architectural specialists and working with the many different people associated with public and community based projects is very rewarding, and give me a sense of continuum with my previous work in building conservation. I also enjoy collaborating with other artists and makers.